Over the past several years, dozens of local men and women have taken part in an initiative to help bring joy – in the form of a bright, colorful dress – to some of the poorest girls in the world.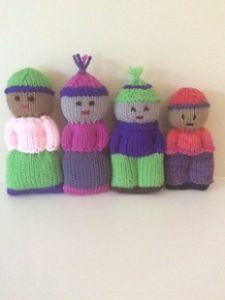 "Sewing for Hope," as it is called, is an offshoot of a project started by Dr. Susan Wilson, the founder of the nonprofit group Tumaini Fund. (Tumaini is Swahili for hope.) Using a simple pattern, volunteers sew sundresses which are then shipped to girls in Kagera, one of the poorest parts of Tanzania.
Members of the Westborough Women's Club have helped to spearhead the project locally. The result has been many beautiful, brightly colored dresses have been created.
Although the days can be quite warm in Kagera, the nights are much cooler. When children try to warm up by getting closer to a fire, they sometimes get burned. So the project has expanded to asking for volunteers to knit simple sweaters that the children (both boys and girls) can wear.
We've just started working on creating some Izzy Dolls. Knitters and crocheters are creating a very special product for the Humanitarian Medical Kit: the Izzy Doll. … Sometimes the handmade little doll, also known as a Comfort Doll, is a child's first toy.
UPDATE…..During our COVID-19 Stay At Home time, 25 dresses were sewn by members and will be shipped to Tanzania….