Involve
>>>

Engage

>>>

Connect!
CLUB EVENTS
Join us at this fun fundraiser at the Westborough Country Club, Wednesday, June 22; 2:00 – 7:00.  Call the Club for a tee time – 508.366.9947 so that you can participate.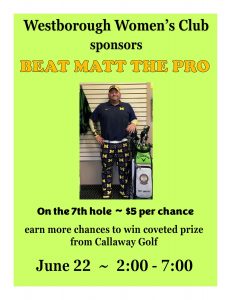 ---
---
WOW!  Thank you everyone who purchased a raffle ticket.  We have sold all 300 tickets!  The drawing of the 3 winning tickets will be held on Tuesday, April 26; 7:00, K of C.  Keep your phones on in case we call you…..



WWC RAFFLE
The Westborough Women's Club is kicking off our new major fundraiser.  The funds raised will allow us to continue to provide scholarships to WHS graduating seniors and to provide needed support through our community outreach and community improvement projects.  Only 300 tickets will be sold – chances of winning are pretty good!  More details on the flyer below.
FIRST PRIZE …… $3,000
SECOND PRIZE …… $1,500
THIRD PRIZE ….. $500
Drawing to be held Tuesday, April 26, 2022
PURCHASE YOUR TICKETS HERE!  SO SORRY – SOLD OUT!!!
@westboroughwomensclub

Community Harvest Project
On August 31, several members of WWC volunteered at the Community Harvest Project in North Grafton. With WWC's help, 60 lbs. of green beans, 225 lbs. of onions, and 500 lbs. of tomatoes were processed. Our collection of 785 lbs. of vegetables will provide an estimate of 2505 servings of food for people of need, including some from our Westborough. Members also helped wash collection baskets, make packaging boxes, as part of the operation of such a worthy cause. A special  "thank you" to our Outreach Coordinator and participant, for arranging such a productive event.
Yes!  We are meeting….
Wow!  Sixty plus members met outside at Bay State Commons for our October 12th monthly meeting.  Lunch was catered by John Ayotte, Chef du Jour.  We played Corn Hole and a Hole in One game – prizes were Uhlman Cow Coins!  Lots of smiles, lots of chatting, lots of connecting with friends that we hadn't seen in person for quite a while.  And it was a gorgeous 70 degree sunny fall day.  Just wow!
Our Mission
Strengthen the educational and social life of its members, advance and improve the community and support charities