Involve
>>>

Engage

>>>

Connect!
HOUSE TOUR 2023 – Tickets go on sale Tuesday, November 14
Purchase your tickets either at the Town Hall, ask a member, or contact us through the "contact us" tab here on the website.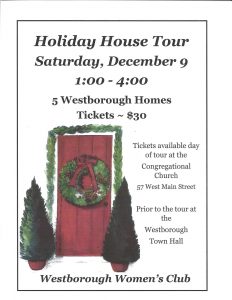 ---
Community Harvest Garden – Volunteering
Several members of the Westborough Women's Club volunteered to hep with the harvest at the Community Harvest Project in Grafton.  Along with other area volunteers, they helped to harvest 3,385 pounds of squash – butternut and acorn.  They also helped clean up the tomato field pulling up stakes and twine.  Lots of work – but gratifying.
Involve
>>>

Engage

>>>

Connect!
Our Mission
The mission of the Westborough Women's Club shall be to strengthen the educational and social life of its members, and to advance and improve the community by supporting charitable organizations and local civic activities