Involve
>>>

Engage

>>>

Connect!
Our Mission
Strengthen the educational and social life of its members, advance and improve the community and support charities
CLUB EVENTS
WWC WINS at BINGO!
On a cold, snow-covered evening, 52 WWC members participated in WWC's first Bingo via Zoom, in the comfort of their homes. Three games were played, 255 Bingo cards were purchased, and 5 members met the Bingo challenge.
Many players thought all members were winners by their participation in such a fun event. Very exciting was the $945 raised for the WWC to help meet the needs of the community. SAVE your Bingo Cards!!! We are hoping to play "Family & Friends Bingo" in the early spring. New cards for new players and replacement cards will easily be available for purchase at that time. Stay tuned!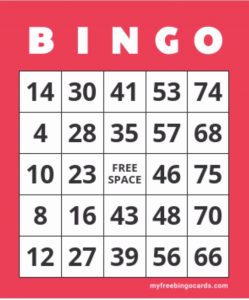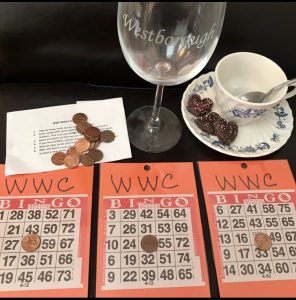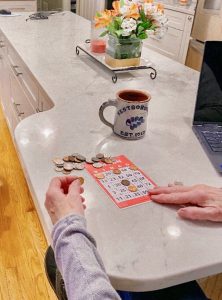 TOWN ELECTIONS – TUESDAY, MARCH 2
Town elections are happening on Tuesday, March 2.  You may either vote in person on March 2 at the Town Hall,  8am – 8pm, or vote by mail.   If folks wish to receive a ballot through the mail, they will need to complete a 2021 Vote By Mail Application first and return it to the Town Clerk's Office quickly.
Once the application has been received, a ballot will be mailed to the voter.  Once the ballot is completed, it must be mailed or returned to the Town Clerk's office by the voter or placed in the black drop box outside of the Town Hall.
Go to https://www.town.westborough.ma.us/sites/g/files/vyhlif5176/f/uploads/2021-vote-by-mail-appl.pdf to print an application or call the Town Clerk's office at 508.366.3020.
This is how we operate…..
Our November Board Meeting – outside, with masks, and social distancing.  In November!  In New England!  We are hearty.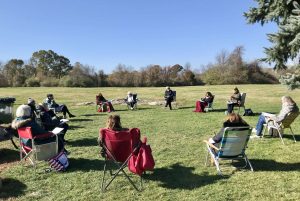 COVID-19 INFORMATION
Rapid Emergency Notification System
The Town of Westborough has instituted a new, rapid, emergency notification service called CodeRED®. The system will distribute emergency messages to targeted areas or the entire Town at a very high speed. CodeRED® employs mapping capability for geographic targeting of calls coupled with a high speed telephone calling system. It is capable of delivering customized pre-recorded emergency messages directly to homes, businesses, live individuals, and answering machines.
This service can be used in case of fires, chemical spills, evacuations, lock downs, downed power lines, lost individuals, natural disasters, abductions, water system problems, bomb threats, or other emergencies. Calls can be geographically targeted for localized messaging. If the incident widespread, the entire community could be called with the same message in a short period of time.
This service will also be used to send messages regarding COVID-19 vaccination sites.
Westborough residents and businesses are welcomed and encouraged to enter contact information for their home, business, and mobile phones so they may be contacted by the system in the event of an emergency. Text and email accounts can also be registered. It is important to register especially you utilize unlisted numbers, cell phones, or VOIP. Those who do not register their address and phone number may not be notified with CodeRED in the case of an emergency. Registration is confidential, free, and easy.
For questions please email CodeRED or call 508-366-3040.
A COVID-19 information phone line has been established by the Town and can be utilized for any questions that you may have. If the operator is unable to answer your question you will be directed to the appropriate department. The phone number is 508-871-5111 or you can email your questions to covidinfo@town.westborough.ma.us.