WWC RAFFLE
UPDATE!  WOW!  Thank you to everyone who purchased one of our raffle tickets!  We have sold all 300 tickets.  The drawing of our 3 winners will take place on Tuesday, April 26; 7:00 pm; K of C.  Stay tuned, keep those phones on in case we call you!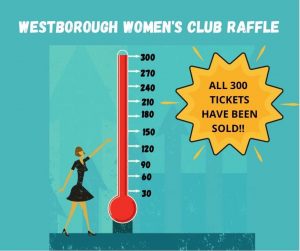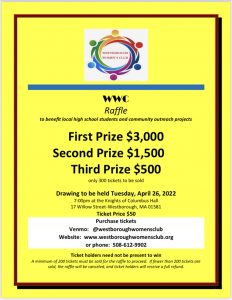 The Westborough Women's Club is kicking off our new major fundraiser.  The funds raised will allow us to continue to provide scholarships to WHS graduating seniors and to provide needed support through our community outreach and community improvement projects.  Only 300 tickets will be sold – chances of winning are pretty good!  More details on the flyer below.
FIRST PRIZE …… $3,000
SECOND PRIZE …… $1,500
THIRD PRIZE ….. $500
Drawing to be held Tuesday, April 26, 2022
PURCHASE YOUR TICKETS HERE! 
SO SORRY … SOLD OUT!!!
OR PURCHASE BY USING YOUR VENMO APP
Note:  if paying by VENMO, you'll find us under BUSINESSES.  And, please note your cell phone number and email in the comments section so we can confirm your purchase and ticket number.  Many thanks!
@westboroughwomensclub