Many thanks to all who donated goods and services – our first on-line auction was truly a success!
Welcome to our first online auction.  Below are the instructions on how to bid on items – if you are not on Facebook, ask a friend, daughter, or granddaughter to bid on these items for you!  Good luck – happy bidding….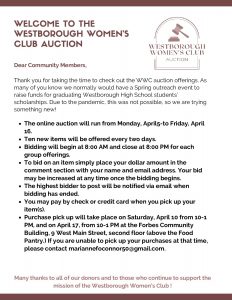 APRIL 5 AND 6 ITEMS
APRIL 7 AND 8 ITEMS
APRIL 9 AND10 ITEMS –
REMEMBER, YOU WILL ONLY BE ABLE TO BID ON THESE ITEMS ON APRIL 9 AND 10 !!
APRIL 12 AND 13 ITEMS
APRIL 14 AND 15 ITEMS
LAST DAYS OF OUR AUCTION
THANK YOU FOR PARTICIPATING IN OUR AUCTION…..
When you win an item, we will email you – pick up and payment (check or credit card) will be at the Forbes Community Building (Food Pantry), 9 East Main Street.